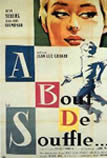 Breathless by Jean-Luc Godard (1960)
A young punk, Michel Poiccard, steals a car in Marseilles to drive to Paris, where he wants to pick up some money owed to him from some shady deal. He also hopes to hook up again with a young American student, Patricia Franchini, with whom he has fallen in love during a brief tryst in Nice. He wants to convince her to go to Italy with him. Chased by some motorcycle policemen because he passed illegally, he shoots and kills one of them and flees on foot into the countryside. Arriving the next morning in Paris, he steals some money from a former girlfriend and then goes to see Patricia, who is selling the New York Herald Tribune on the Champs-Elysées. Later, in a travel agency, he finds the friend who has been holding his money for him (Tolmatchoff), but he can't cash the check because it can only be deposited in a bank account. He has to contact another friend, Antonio Berruti, who will be able to cash the check for him.
While waiting, he finds Patricia again and tries to convince her to spend the night with him. She leaves him to go meet a journalist who has promised to help her learn the trade. The next morning, when Patricia comes back to her hotel room, she finds Michel in her bed, where he slept the previous night. They play out a long scene in the room before finally making love. In the afternoon Michel drives Patricia to the Orly airport, where she joins other reporters in an interview of a novelist, Parvulesco.
Meanwhile, the Parisian police inspector Vital is hot on the trail of Michel, who has been quickly identified as the cop-killer - which Michel learns in reading the newspaper headlines. The police question Patricia and threaten to create trouble for her with her residency card if she is not cooperative, after which they tail her on the Champs-Elysées through a huge crowd watching a parade. Michel and Patricia manage to lose the police, then go to the movies, steal a car in a parking garage, and finally find Berruti that evening in the Montparnasse quarter of Paris. They spend the night in the studio apartment of a friend's mistress while Michel waits for Berruti to bring the money the following morning. Early in the morning, Patricia calls the police to tell them where Michel is hiding. Michel is shot down in the street by Inspector Vital as he tries to run off.